Sports
Saskatchewan Roughriders' legend George Reed dies at age 83
George Reed was just one day shy of his 84th birthday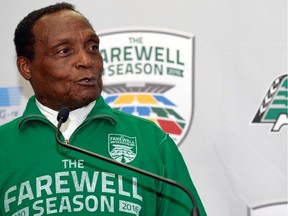 Article content
The legend of George Reed extended beyond being one of the CFL's all-time greats.  
In addition to starring for the Saskatchewan Roughriders for 13 seasons, he was a standout in the community — a reason why he received the Order of Canada.
Article content
Those contributions, and so many more, are being honoured as the life of Reed is being celebrated. Reed died on Sunday at age 83, just one day before what would have been his 84th birthday. 
Article content
Reed, who played for the Roughriders from 1963 to 1975, retired as the league's all-time leader in rushing yards (16,116), rushing touchdowns (134) and overall TDs (137). He was named CFL all-star nine times and a West Division all-star on 11 occasions.   
He played a key role in the Riders capturing their first Grey Cup, rushing for 133 yards — including a 31-yard TD that effectively sealed the outcome — as Saskatchewan defeated the Ottawa Rough Riders 29-14 on Nov. 26, 1966 in Vancouver.  
Reed, who surpassed 1,000 rushing yards 11 times in his CFL career, was inducted into the Canadian Football Hall of Fame and Saskatchewan Sports Hall of Fame in 1979 and the Riders' Plaza of Honour in 1987.  
The aforementioned honours were in recognition of Reed's on-field accomplishments with the Green and White.
Reed, however, was renowned for his contributions off the field. At one point of his career, Reed was involved with 47 charitable or community groups.   
He did that will juggling his football career and serving as the president of the Canadian Football League's Players' Association, a post he filled for 13 years within a 19-year span.  
Article content
Reed also found time to help form Special Olympics Saskatchewan and work full-time with Molson's Breweries.  
Reed's long-standing importance in the community was further recognized in 2019 when a long-time friend Eric Johnson noticed that the former fullback had mobility issues due to having his left ankle replaced and two back surgeries.  
Johnson and his wife, Shirley Wagman, set up a GoFundMe account with the headline "The Great George Reed No. 34 Needs Our Help."  
Donations reached $69,665, surpassing the goal of $50,000. Johnson didn't know how much would be raised, but knew that fans would step up for the "best ambassador the CFL and Riders could ask for."   
He was that and more. Reed never turned down an autograph request and appeared at numerous fundraisers for other people or for good causes throughout his life.  
"George exemplified everything that it is right about being a professional football player and being a great human being," said Dale West, who was Reed's teammate on the Roughriders from 1962 to 1968.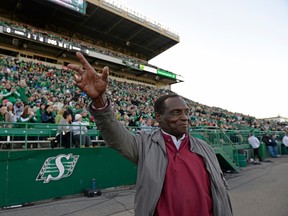 Reed was born on Oct. 2, 1939, in Vicksburg, Miss., but grew up in Renton, Wash. He played for the Washington State University Cougars, rushing for 1,216 yards and 19 touchdowns in three seasons while also playing linebacker. He missed the 1960 season while recovering from a badly broken leg.
Article content
On Aug. 5, 1963, Reed made his regular-season debut with the Roughriders, rushing for 74 yards and a touchdown (on a one-yard run) on 16 carries during a 19-16 victory in Edmonton.  
Quarterback Ron Lancaster also joined the Riders in 1963. Reed and Lancaster would become synonymous with the Green and White, to the extent that the team's games were often billed "The Ronnie and George Show."
The 1963 post-season was marked by one of the Riders' most memorable comebacks, dubbed "The Little Miracle of Taylor Field."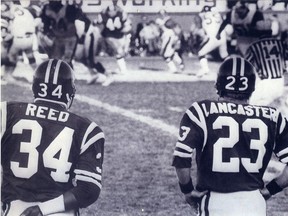 After losing 35-9 to the host Calgary Stampeders in the first game of the two-game total-points Western Conference semi-final, the Roughriders needed to win at home by at least 27 points to advance.  
That they did, defeating Calgary 39-12 at Taylor Field to edge Calgary 48-47 overall.  
Lancaster threw for 492 yards and five touchdowns in addition to handing off to Reed for a 10-yard run that produced the winning TD. Fans then carried Reed off the field on their shoulders.  
In 1965, Reed became the first Roughrider to be named the CFL's most outstanding player. Lancaster (in 1970 and 1976) and Kerry Joseph (2007) are the only other Roughriders to have received the CFL's most prestigious individual honour.  
Article content
Reed rushed for 1,768 yards — still a franchise record — in 1965. He also set the Roughriders' single-game rushing record of 268 yards in a 30-14 victory over the host B.C. Lions on Oct. 24, 1965. He was the runner up for the most-outstanding-player award in 1968 and 1969.  
Reed and Lancaster remained teammates until May of 1976, when Reed suddenly retired before training camp despite having signed a two-year contract extension in January of that year.   
Lancaster would play three more seasons while remaining close with Reed and his family until the iconic quarterback's death on Sept. 18, 2008.  
In 1976, Reed became the first recipient of the CFL Players' Association's Tom Pate Memorial Award, which recognizes excellence on and off the field. Lancaster won the award the following year.  
In 1978, Reed received Canada's highest civilian honour, becoming a Member of the Order of Canada.
Reed started working with Molson's in 1966 and moved to Calgary in 1984 as the brewery's district sales manager. He remained involved with community events in Saskatchewan, including the George Reed Foundation. The Foundation was founded in 1975 to assist people with disabilities.
Article content
In 2009, Reed and his wife Angie moved back to Regina after spending 25 years in Calgary. That was also the year that Reed was hired as the corporate event host for Casino Regina and Casino Moose Jaw.   
Reed remained among the most approachable Roughriders alumni in his new role. He was a regular at games at old and new Mosaic Stadiums. In 2017, statues of Reed and Lancaster were unveiled in front of the new Mosaic Stadium.   
"(Lancaster) was the quarterback and I was running back, but off the football field our families were very close and we did a lot of things together and I couldn't think of anything better than to be sitting beside his statue," Reed told reporters when the statues were unveiled.  
Reed's statue is modelled after a photo of him looking back while running away from defenders.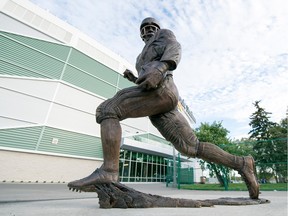 The connections between Reed and the Riders were further entrenched in 2019 when a portion of 10th Avenue (along the north side of Mosaic Stadium) was renamed George Reed Way.   
In addition to the renaming of 10th Avenue, the address of Mosaic Stadium was changed to 1734 George Reed Way. The last two digits are in recognition of Reed's iconic jersey No. 34, one of eight numbers retired by the Green and White.  
Article content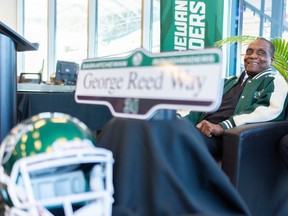 "It's one thing to be a football player," West said in 2019. "It's another thing to be a wonderful person. George has proven time and time again just how great a person that he is."  
Reed is survived by Angie, their three children (Keith, Vicki and Georgette) and numerous grandchildren. 
Statement from George's daughter, Georgette Reed 
"It was my dad's immense honour to be part of the Saskatchewan community and to call it home for so many years. Sixty years ago, he received an offer to move to Regina to play for the Saskatchewan Roughriders and in accepting that offer it changed our lives for the better. Playing for the Roughriders was one of my dad's greatest joys and we will never forget the love he and our entire family received from the people here until the very end. I know my dad's legacy will live on in the hearts of Rider Nation, as well as our own. We will all miss him so very much."  
Statement from Craig Reynolds, Saskatchewan Roughriders President and CEO
"George Reed was a giant in life, not only for the Roughriders, but in the Saskatchewan community and across the entire CFL. His strength and tenacity on the field was matched only by his compassion and dedication off of it. George made our province and the CFL a better place and I know I speak on behalf of all of Rider Nation when I say we will miss him deeply. It was an honour to have him in our life."   
Article content
Statement from Jeremy O'Day, Roughriders vice president of football operations and general manager
"In George Reed, the Roughriders had a legend in its midst, a role model and an example of what it meant to be a true professional. To be able to spend time with George throughout my time in Saskatchewan was a blessing and provided me, as well as our staff, players and coaches a great source of inspiration. There will never be another #34." 
Statement from the Randy Ambrosie, CFL
Commissioner
It is remarkable that George played 13 years in the Canadian Football League, an eternity in professional football, particularly for a running back. It is notable that he played all 203 of his games for one team, the Saskatchewan Roughriders, earning the CFL's Most Outstanding Player Award in 1965.
It's impressive that, at the time of his retirement in 1975, he held career records for rushing yards, rushing touchdowns and touchdowns of any sort. it is incredible that he has continued to hold the CFL record for rushing touchdowns, 134 in total, all of this time, given all the talented players who have followed.
Article content
But what truly speaks to the greatness of George Reed is the hold he has continued to have on so many of us, long after he stopped playing the game he loved. It's a hold on our hearts, which has endured year after year, decade after decade, and even generation after generation. It has had such tremendous staying power because it had far more to do with George Reed the person, than George Reed the football player.
His humility, kindness and devotion to community – the generosity with which he always responded to both people and causes – drew so many of us to him over the years, including thousands born long after he stopped scoring touchdowns. We'll always honour his place in Canadian football history. But George Reed's place in our hearts is what we'll continue to cherish.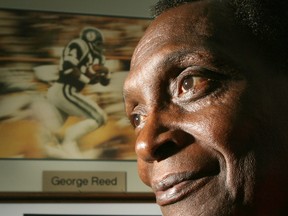 — With files from Murray McCormick and Rob Vanstone.
Related Stories
Road outside Mosaic Stadium renamed in honour of George Reed

George Reed: 80 years of greatness